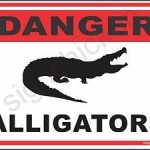 In a strange case out of Brevard County, Florida, a man who was running from police after attempting to burglarize homes in the area was apparently killed by an alligator after he ventured into a lake.
Twenty-two-year old Matthew Riggins told his girlfriend that he was heading over to Barefoot Bay Lake to rob houses with a friend. But when deputies responded to a call that two suspicious men were walking behind houses in the area dressed in black, the two men ran from the police. Riggins' friend was caught and is in custody. Riggins, however, seemed to vanish without a trace.
Police who were searching the area that night say they heard yelling, but couldn't figure out where it was coming from. Riggins was reported missing by loved-ones the next day. Ten days later, his remains were found in Barefoot Bay Lake, an apparent victim of a fatal alligator attack . . . an extremely rare event that has happened only a couple different times over the last decade.
Maybe going barefoot in Barefoot Bay Lake isn't such a good idea anymore.