Six-year-old Shot By Police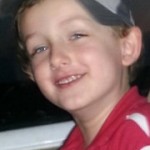 In  Marksville, Louisiana, a six-year-old boy was shot dead by police after his father apparently failed to stop for a routine traffic violation. The boy was hit 5 times, with bullets striking him in the head and chest. He was still buckled in the front seat when he died.
According to the department the incident occurred after what they are calling a traffic chaise. There were no details on exactly how long this alleged chase is said to have occurred or what exactly transpired. Those close to the family say the boys father, Chris Few, had no reason to flee, but when the car stopped, police apparently got our of their vehicle and opened fire. The boy's father was also critically injured.
There is video of the incident, but it is not being released by the department. One spokesman for the police department simply stated that what he watched on the video "was the most disturbing thing I've ever seen." 1  The two officers involved in the shooting were charged with second degree murder, and more charges could be coming against other officers that were on the scene.
Stories like this expose something many of us have known for a long time: police miss-conduct and brutality is not merely a case of a few bad apples, but a widespread problem. Here we have not just one, not two, but multiple officers acting in an inappropriate. Hopefully we can begin to address this problem before more children die at the hands of police.
CNN News, November 7, 2015